22 October 2020
The Environmental Impact Statement for the 23-kilometre Western Sydney International (WSI) Airport is now on public exhibition. There will be 6 new metro stations at St Marys, Orchard Hills, Luddenham, Airport Business Park, WSI Airport and the Western Sydney Aerotropolis. Visit the Sydney Metro – Western Sydney Airport interactive portal where you can access planning documents.
28 September
Extension to NSW Planning's COVID-19 Response
NSW Minister for Planning and Public Spaces Rob Stokes has confirmed that NSW Planning's Orders in response to COVID-19, will be extended for another 6 months until 25 March 2021.
The following Orders were made earlier in 2020 in response to the COVID-19 Emergency:
Health Services Facilities
The Environmental Planning and Assessment (COVID-19 Development – Health Services Facilities) Order 2020 was made on 31 March 2020, and permits a change of use of any building or place to a health services facility without the need for approval.
The Order also allows the construction or installation of a temporary structure, and temporary alterations or additions to a building or work. Construction can be done at any time subject to measures to reduce noise. Development can only be carried out by or on behalf of the NSW Government or other public authority.
Extended Construction Hours
The Environmental Planning and Assessment (COVID-19 Development – Construction Work Days) Order 2020 was made on 31 March 2020.
The order allows weekday construction site operating hours to be extended to weekends and public holidays to ensure workers can practice social distancing without a loss of productivity or jobs.
Supermarkets & Retail – 24h trading
The State Environmental Planning Policy (COVID-19 Response) was made on 25 March 2020 and allows supermarkets and other retail outlets across the State to receive deliveries 24 hours a day.
The policy overrides local planning restrictions that limit the timing and frequency of truck deliveries to ensure consistent supply of essential goods to communities right across the State.
Food trucks & 'dark kitchens'
The Environmental Planning and Assessment (COVID-19 Development – Takeaway Food and Beverages) Order 2020 was made on 31 March 2020.
The order allows food trucks to operate on any land at any time, with the landholder's permission.
It also allows 'dark kitchens' to operate in any existing commercial kitchen, such as those in community facilities, business premises, cooking schools and function centres, to allow for the preparation of food and meals to be delivered to those at home, in self isolation, or working on the frontline.
All other conditions including not obstructing vehicle or pedestrian access and taking steps to reduce noise still apply, and operators must ensure employees and customers practice social distancing.
Home business 24h operation
The Environmental Planning and Assessment (COVID-19 Development – Extended Operation) Order 2020 was made on 25 March 2020.
The order allows home businesses to operate 24h and employ more than 2 people (but not more than 5 people) other than the permanent residents of the dwelling, providing they can abide by social distancing rules.
All other conditions still apply, and home businesses must take steps to ensure that they have no adverse impact on the amenity of the neighbourhood including noise, smell, fumes or waste products.
Pop-up cycleways
The Environmental Planning and Assessment Amendment (COVID-19 Development—Temporary Cycleways) Order 2020 was made on 29 May 2020 which allows 6 temporary cycleways to be installed in the City of Sydney.
The measure provides additional transport options for commuters returning to the CBD for work. It supports the NSW Government's COVIDSafe Transport Plan which identifies 'more cycling and walking options' as one of 7 key measures to maintain health and safety on the NSW transport system.
Vehicle sanitisation stations
The Environmental Planning and Assessment (COVID-19 Development-Vehicle Sanitsation Stations) Order 2020 was made on 12 August 2020, which allows development (including temporary building works) for the purpose of a vehicle sanitisation station to be carried out without further development consent as long as certain conditions are met.
Vehicle sanitisation stations provide for a professional sanitisation service to point to point vehicles such as taxis, ride shares and community transport vehicles to protect the health of passengers and drivers during the COVID-19 pandemic.
The Order only allows a vehicle sanitisation station to be carried out without further consent if:
it takes place on land that can lawfully used for industry, a vehicle repair station or is an existing warehouse or distribution centre;
it is carried out by or on behalf of Transport for NSW;
owner's consent has been provided;
the operator continues to comply with existing development consent conditions, except where variation is necessary to operate the vehicle sanitisation station;
noise is reduced where possible and impacts to neighbouring properties are minimised and;
any building works are reinstated once the vehicle sanitisation station is no longer operational.
31 August
The draft Place Strategy for Rhodes is currently on exhibition for public comment until Friday 9 October 2020. The draft Strategy includes a revised master plan, and:
New/increased heights and density controls;

Approximately 4,260 new homes, 200 new affordable housing dwellings and up to 930 new jobs;

22,950 sqm of new public open space, including a new 7,500m² foreshore park, a new 4,000m2 plaza near Rhodes station and a 15m wide foreshore promenade.
15 July
The NSW Government has revealed the Planning Reform Action Plan to drastically reduced planning assessment times, red tape, and user friendly e-planning tools to help turbo-charge the economic recovery from the COVID-19 pandemic. The changes will slash times as follows;
Rezoning decisions cut by 191 days (33% time savings)

Decisions on Development Applications (DAs) for larger, regionally significant projects cut by 91 days (25% time savings)

Decisions on major projects of significance to the State cut by 20 days (17% time savings).
The Government has also invested almost $10 million to enhance its ePlanning platform and ensure all councils can get online to process DAs more quickly and transparently slash DA processing times by more than half. All councils will have to adopt the online system by 1 July 2021.
1 April 2020
The draft Cumberland Development Control Plan is on public exhibition from 1 April until 8 May 2020. The draft CDCP will consolidate and repeal the current Auburn, Parramatta and Holroyd Development Control Plans, and can be downloaded here.
1 January 2020
As we welcome in 2020, TRANPLAN would like to wish a very happy new decade to all past, current and future clients & colleagues.
16 Sep
8 Aug
Development applications (DA) with a value of between more than $5 million but less than $30 million.

DA for which the applicant or owner is the council, a councillor, a member of a councillor's family, a member of council staff, or a state or federal member of Parliament.

DA that receive 10 or more objections from different households.

DA accompanied by a proposed voluntary planning agreement.

DA seeking to depart by more than 10% from a development standard.

DA associated with a higher risk of corruption: residential flat buildings assessed under SEPP 65, demolition of heritage items, licensed places of public entertainment and sex industry premises, designated development, as set out in the Environmental Planning and Assessment Regulation 2000.
1 July 2019
The implementation of 'Local Strategic Planning Statements' (LSPS) and the 'Low Rise Medium Density Housing Code' (LRMDHC) are once again delayed.
Originally all Sydney councils were to finalise their LSPS by 1 July 2019. However, the NSW Government has extended this deadline until 31 March 2020 (Councils must exhibit their draft LSPS by 1 October 2019).
The State-wide LRMDHC was to be active from 1 July 2019, but has been extended until 31 October 2019.
28 June 2019
A 43-storey building above the northern entry to the new Pitt Street metro station on Park Street between Pitt and Castlereagh streets. This building could become a commercial office tower or a mixed-use building that would include residential apartments, a hotel and commercial or retail space.
A 30-storey commercial or 35-storey residential building above the southern entry to the station near the corner of Bathurst and Pitt streets.
27 June
The NSW Department of Planning and Environment is proposing changes to NSW planning legislation after the NSW Court of Appeal ruling that the development consent for the Walsh Bay Arts Precinct was invalid (Bay Simmer Investments Pty Ltd v State of New South Wales [2017] NSWCA 135). Public submissions on the proposed changes planning legislation can be made until

Monday, 24 July 2017

.
25 June
Macquarie Group's concept proposal for an integrated Sydney Metro Martin Place station development (including a new 40+ storey building at the northern end & a new 28+ storey building at the southern end) is on exhibition until 30 June.
23 June
it was not a "staged development application" because it included a concept approval and proposed only one subsequent detailed development application (DA), instead of multiple detailed DAs; and

construction-related impacts need to be considered in the assessment of a staged application.
15 May
The Land Use and Infrastructure Implementation Plan for Sydney's North West outlines the plan for the expansion of the Growth Area, which includes the suburbs of Riverstone, Vineyard, Schofields, Rouse Hill, Kellyville, Marsden Park and Colebee. The plan is on exhibition until 20 June 2017.


12 April
Plans to support a vibrant town centre in Forster (which could see the creation of 260 new jobs for the town and also provide 145 homes for seniors) can now proceed to public exhibition.
29 March
The Minister for Planning has released the Development Assessment Best Practice Guide. The guide outlines processes and procedures that are already being used in some councils to improve development application (DA) approval times and to create a more efficient assessment process. If you are new to the DA process,

contact us for advice

regarding your project.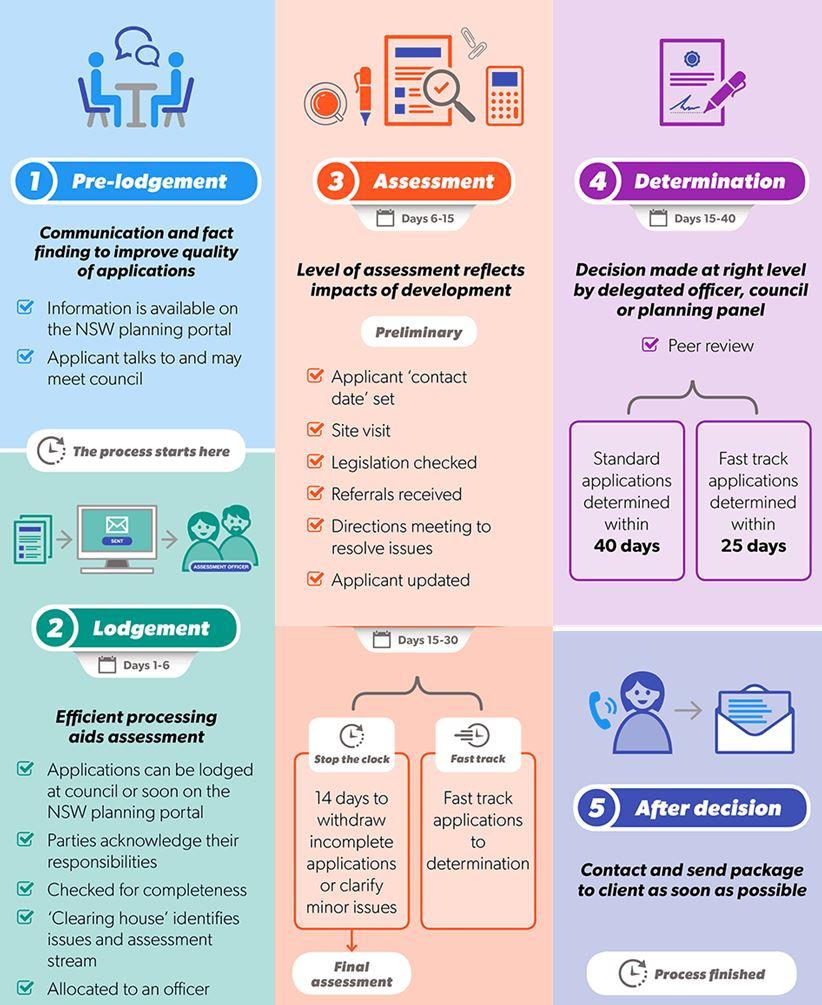 1 March
17 February
15 February
A proposal by Property NSW for public domain and foreshore improvements at Campbell's Cove in The Rocks is on exhibition for community consultation until Friday 10 March 2017.The proposed works include:
a new 10-metre-wide promenade

a new waterfront leisure area and amphitheatre for public events

a shared plaza/pedestrian square with reduced land levels, pedestrian circulation and truck access to the new Overseas Passenger Terminal wharf extension

new east-west connections from the Campbell's Cove promenade to Hickson Road and The Rocks
31 January 2017
The Department of Planning & Bayside Council has developed draft plans for the Bayside West Precincts that will help guide development over the next two decades. The draft plans include new homes (potential for 4100 new dwellings at Arncliffe, 1000 at Banksia., and up to 5000 new dwellings are being investigated at Cooks Cove) close to transport, community facilities, shops, businesses, new pedestrian and cycling infrastructure, new local parks and sections of the Princes Highway being transformed into tree-lined boulevards. The draft plans are now on exhibition until 28 February 2017.
13 January 2017
The NSW Government is devising improvements to the Environmental Planning and Assessment Act 1979 (the EP&A Act). A number of amendment proposals have been developed, including:
enhancing community participation: establishing a new part of the Act that consolidates community consultation provisions, and requiring decision-makers to give reasons for their decisions

completing the strategic planning framework: through local strategic planning statements, up to date Local Environment Plans and more consistent and workable Development Control Plans

development pathways: improvements to the various development pathways and preventing the misuse of modifications

State significant development: through better environmental impact assessment and more effective conditions of consent

clearer building provisions: simplified and consolidated building provisions, allowing conditions on construction certificates and ensuring consistency with development approvals

elevating the role of design: through a new design object in the act, and a Design-Led Planning Strategy

improving enforcement: with the introduction of enforceable undertakings in compliance actions.
Details of the proposals are available at http://www.planning.nsw.gov.au/Policy-and-Legislation/Legislative-Updates.

Public feedback until 10 March 2017 can play a vital role in further developing these updates to the EP&A Act. For information about making a submission, call Department of Planning's Information Centre on 1300 305 695 or email legislativeupdates@planning.nsw.gov.au.
2 December 2016
A draft plan for a new precinct at Ingleside on the Northern Beaches, located ten minutes' drive to the beach, proposes up to 3,400 new houses and terraces will be built with around 15 hectares of open space.
The precinct will also feature a town centre, neighbourhood centre, a proposed new primary school and other community facilities. Future residents will benefit from upgrades to Mona Vale, Powder Works and Chiltern Roads. The draft plan is on public exhibition until February 28, 2017.
7 November
The NSW Department of Planning has agreed to the Hills Shire Council's request for exemption from SEPP 65 & the Apartment Design Guide to enforce larger minimum apartment sizes, new unit mix provisions and higher parking standards within new Priority Precincts. The Hills LEP 2012 will be amended to include special local provisions overriding SEPP 65 relating to six Planning Proposals for:
larger minimum apartment sizes for at least 40% of new 2 & 3-bedroom apartments.
no more than 25% of all new apartments in these precincts are studios or 1-bedrooms, and that at least 20% have at least 3-bedrooms.
Car parking requirements will be increased to require a minimum of one car space per dwelling and one visitor space for every four dwellings.
24 Oct
Bells Hire is proposing to increase the processing capacity at the recycling centre on Violet Street in Revesby from 30,000 tonnes to 250,000 tonnes per year of non-putrescible construction and demolition waste, and commercial and industrial wastes. 'Non-putrescible' wastes to be processed at the recycling include metal, timber, paper, cardboard, glass, plastics, ceramics, asphalt, soils, bricks and concrete. Submissions can be made from Thursday 13 October until Monday 14 November 2016.


19 Oct
Caltex Australia Petroleum is proposing the on-site treatment and management of contaminated soils contained at the former Kurnell refinery. The proposal seeks to:
• construct and operate an on-site containment cell for asbestos contaminated soils (ACS) and an associated wastewater collection system
• excavate and transport ACS to the containment cell
• construct and operate a temporary on-site bioremediation area for treating soils contaminated with fuels, prior to its disposal in the ACS containment cell or off-site (if required).
Submissions can be made from Thursday 20 October until Wednesday 2 November 2016.
23 July
The independent Planning Assessment Commission will make the final decision on a modification DA at Central Park's Block 8 to allow after hours building and fitout works to be completed inside of the building 24 hours a day on weekdays and from 7:00 am to 10:30 pm on weekends. The DA received one submission from City of Sydney Council and 17 submissions from the public. Key issues raised in public submissions included construction noise and access noise of workers entering and leaving the site. The Commission will now consider the DOP's report and recommended conditions as well as community submissions to make a final decision on the proposal.
26 May
New simplified planning rules to make building and renovating easier and fast-tracked are on exhibition for the public to provide feedback. Complying development is a fast-tracked development assessment process that allows certain works that meet set standards to be approved without a full DA. Approvals for complying development are issued within 22 days on average. This compares with DAs taking an average 71 days. The exhibition period will close on August 12.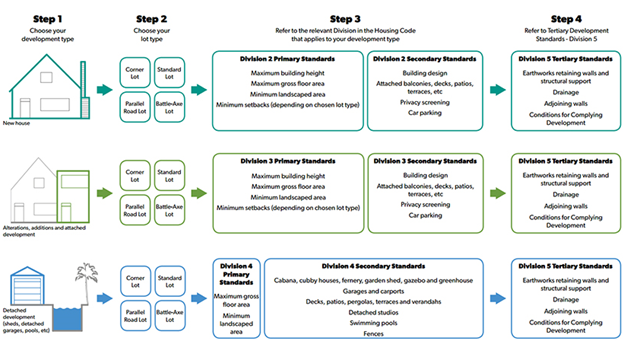 17 May
NSW Premier Mike Baird and the Minister for Local Government Paul Toole has announced 19 New Councils will be formed in NSW:
The New Councils commenced operations on 12 May 2016. Administrators will govern the New Councils until council elections on 9 September 2017. They hold the functions of the elected council and mayor and are appointed by the proclamation. More information regarding the Council merger is available at https://www.strongercouncils.nsw.gov.au/.
5 May
Department of Planning and Environment's Compliance officers have increased inspections at Sydney's major infrastructure sites such as Northconnex, CBD South East Light Rail and the Westconnex M4 Western Motorway, to make sure conditions of approval are being followed. The Department encourages the community to contact compliance officers with concerns about major projects in their neighbourhood which will then investigate complaints.
31 March
The Department of Planning and Environment has recommended the following changes to the proposals to modify the Barangaroo Concept Plan and build the Crown Hotel, including:
improved design of the hotel podium, Block Y, to reduce the bulky appearance and fit better with the surrounding public areas
provision of public access to the observation area on Level 65 of the hotel tower providing views of Sydney Harbour Waterman's Cove and the surrounding public promenade will be redesigned and public access to the foreshore will be improved
The independent Planning Assessment Commission would now make the final decision on the proposals.
17 March
The Department of Planning and Environment has announced an amendment order to the Standard Instrument for Local Environment Plans (SILEPs) and two State Environmental Planning Policies (SEPPs), to:
Ensure hardware and building supplies and garden centres are allowed in General Industrial, Light Industrial and Business Park zones across NSW

Allow livestock processors to do business with suppliers from beyond their surrounding districts, by removing the phrase "derived principally from surrounding districts."

Ensure places of public worship are allowed in General Industrial and Light Industrial zones across NSW; and

Amend the definition of building height to provide the option for councils to also measure from a consistent reference point.
28 January
Plans for precincts around Showground, Bella Vista and Kellyville stations within walking distance of the $8.3 billion Sydney Metro are on exhibition until 28 February. There is also an online survey regarding how up to $15 million could be spent on local infrastructure to support these new communities. The following community drop-in sessions are scheduled:
Showground Station Precinct -
28 January - Castle Hill RSL, 4:30 – 8pm

13 February – Castle Hill RSL, 10am – 1pm
Kellyville and Bella Vista Station Precincts –
30 January - Novotel Sydney Norwest, 10am – 1pm

11 February - Novotel Sydney Norwest, 4:30 – 8pm
18 January 2016
The proposal to redevelop the Australian Technology Park at Locomotive Street, Eveleigh and construct three mixed use buildings ranging from four to nine storeys in height and including retail, commercial, community space, child care uses, gym and above ground parking will be on exhibition from today until 29 February 2016. Commonwealth Bank is expected to be the anchor tenant of the development.
31 December
As the end of 2015 draws near TRANPLAN would like to thank our clients, referrers and everyone we have had the pleasure to work with this year. We hope everyone has had a safe and happy holiday season as we prepare to welcome in the New Year, and we look forward to working with you in 2016.
30 December
As part of Marrickville Council's commitment to innovative and environmentally sustainable services, lodgement and correspondence requirements are changing for Development Applications. From Monday 4 January 2016, all written correspondence between Council and applicants will be electronic (including dispatch of determinations and stamped plans). Also, Council will only require one copy of plans, application form and checklist, without any other hard copy supporting documentation.
14 December
Changes to existing guidelines for advertising billboards around major transport corridors to include specific criteria for electronic signage is on public exhibition until 31 January 2016. The Draft policy aims to ensure road safety risks can be mitigated and the signs are designed, located and operated appropriately.
8 December
A light rail line from Westmead to Strathfield via Parramatta as well as another light rail line to Carlingford has been announced by the New South Wales Government.
4 December
The first of the Greater Sydney Commission appointments has been announced: Lucy Turnbull as Chief Commissioner; Heather Nesbitt as Social Commissioner; Rod Simpson as Environment Commissioner; and Geoff Roberts as Economic Commissioner. The Commission will be charged with developing and implementing district plans, determining regionally significant development applications and will act as the decision maker on rezoning proposals currently undertaken by the Minister.
27 November
A proposal to construct a new multi-lane road link between the M5 East Motorway and St Peters will be on exhibition from today and seeks to:
construct a new multi-lane road link between the M5 East Motorway (east of King Georges Road) and St Peters
including new twin multi-lane tunnels approximately between Kingsgrove and St Peters
widen the M5 East Motorway between King Georges Road and the proposed tunnels
an interchange at St Peters
undertake associated works to upgrade local roads.
Submissions can be made until Friday 29 January 2016.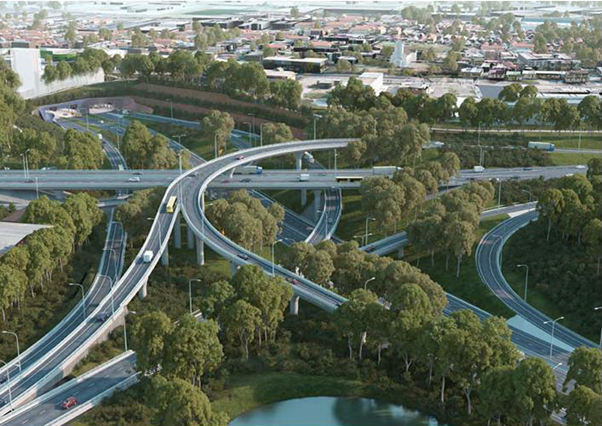 25 November
The rezoning for the Carter Street Priority Precinct has been finalised (November 2015) and feature:
a new village centre with up to 12,000 sqm of shops and services focussed on Uhrig Road
a site for a new primary school
more public open space, including a major park of nearly three hectares
a new foreshore reserve along Haslams Creek
at least 5,500 new homes, ranging from townhouses to apartments to be delivered over the next 20 years a business and technology park on 13 hectares of highly accessible employment land along the M4 corridor for corporate offices and light industry.
20 November
Department of Planning and Environment has approved UrbanGrowth's revised application to rezone the Parramatta North's heritage precinct. The changes as a result of community feedback include:
Reducing allowable height of proposed new buildings next to the Female Factory and the Norma Parker Centre;
Reducing height of proposed new buildings along the eastern side of the site to minimise impact on surrounding areas, including the North Parramatta Conservation Area;
Adding a design excellence clause into the Parramatta Local Environmental Plan to ensure future buildings contribute to the architectural quality of the area; and
Deferring part of the site for later consideration to ensure potential heritage issues are properly addressed.
Heritage Minister indicated that the Heritage Council has been consulted on the new plan and it was vital heritage assets within the precinct are preserved. Key heritage buildings include the former Female Factory and Roman Catholic Orphan School which are significant to the history of NSW. UrbanGrowth NSW will start repair works in early 2016 to ensure buildings are structurally sound. The project will provide around 3,000 new homes and 2,000 new jobs over the life of the project.
4 November
Liverpool City Council's plan to change planning rules for the Liverpool city centre to encourage the renewal of the area with new homes, shops and office space and to help create 10,000 new residential units and extra 22,000 jobs in the city centre can now be prepared for public exhibition after passing through the Department of Planning and Environment's Gateway process.
13 October
A new Priority Growth area around the planned future airport at Badgerys Creek will be created to maximise the economic and strategic benefits of the airport.
1 October
Redevelopment of the site known as One Carrington Street Sydney (above Wynyard Station) has been approved for a 27-storey building housing offices and shops. The existing Menzies Hotel and 301 George Street would be demolished and the heritage-listed properties at 285 George Street and Shell House would be refurbished.
22 September
9 September
The

Greater Sydney Commission (GSC)

will soon be established with responsibility for metropolitan planning in a partnership between state and local government. The Commission will also be charged with conducting regular reviews of Council's Local Environmental Plans and will act as the decision maker on rezoning proposals currently undertaken by the Minister.
The

WestConnex M4 East

will be on extended public display for 45 days, and seeks approval for road upgrades, tunnel construction and associated works, including:

Widening of the M4 Motorway between Homebush Bay Drive at Homebush West and Underwood Road and North Strathfield;
two 5.5 kilometre three-lane tunnels extending from west of Underwood Road at North Strathfield to near Alt Street at Haberfield;
upgrades to the existing Homebush Bay Drive Interchange to connect the western end of the tunnels to the existing M4 and Homebush Bay Drive;
an on-ramp at Powells Creek, west of George Street at North Strathfield to provide access to the M4 westbound;
interchanges at Concord Road at North Strathfield/Concord, Wattle Street (City West Link) at Haberfield, and at Parramatta Road at Ashfiled/Haberfield;
tunnel ventilation systems and facilities within the existing M4 corridor near Underwood Road at Homebush and at the corner of Parramatta Road and Wattle Street at Haberfield;
27 August
Barangaroo Reserve, Sydney city's new headland park, was officially opened by the NSW Premier on Saturday, 22 August 2015.
13 August
A proposal to redevelop Gosford Hospital and commence Stage 1 of the new "Health and Wellbeing Precinct" (HWP) is on exhibition until Friday 11 September 2015.
11 August
A five-fold increase in planning penalties for companies that breach development consent conditions come into force today after being passed by the NSW Parliament in November 2014. From 14 August, a further reform will come into force allowing the Government to issue $15,000 on-the-spot fines to companies who breach development consents, an increase from the current maximum of $3,000.
5 August
A proposal to convert an existing advertising sign to an electronic / digital advertising sign in Circular Quay is on public exhibition.
27 July 2015
16 July 2015
The planning proposal for rezoning privately-owned land at 105 Wellington St Bondi from recreational space to residential has been approved.
10 July 2015
Barangaroo Delivery Authority (BDA) have appointed a new CEO and the first tenants have begun moving into Barangaroo South, and visitors to the precinct can now also walk the streets of Barangaroo including Barangaroo Avenue, Scotch Row, Shipwright Walk, Mercantile Walk, Watermans Quay and the newly reopened foreshore walk - Wulugul Walk.
8 July 2015
A proposed amendment to the State Environmental Planning Policy (Mining, Petroleum Production and Extractive Industries) 2007 is on exhibition.
5 July 2015
UrbanGrowth NSW has brought forward the sale of a 1.35 hectare 'superlot' known as Stage 4, to accelerate the development of Green Square Town Centre. The superlot wasn't scheduled for development by UrbanGrowth NSW and Mirvac for up to 8 years. Stage 4 provides about 100,000sqm of floor area with an equal mix of commercial and residential (around 600 apartments) and comprises approximately 25% of UrbanGrowth NSW's total landholding at Green Square Town Centre. Jones Lang La Salle (JLL) has been appointed to sell Stage 4 by Tender.
26 June 2015
The City of Sydney and Sydney Water will start tunnelling a

2.4km long underground drain

that will carry up to 30,000L of stormwater per second to Alexandra Canal.
A new underground railway station at Barangaroo will be part of the plans for the new Sydney Metro. The NSW Budget 2015-16 includes $84 million to continue planning and development for the second harbour rail crossing as part of Sydney Metro. To incorporate the new underground station, the Barangaroo Delivery Authority will commence a new tender process for the development of Central Barangaroo.
25 June 2015
The finalised Sutherland Shire Local Environment Plan 2015 was approved by the Department of Planning and Environment as part of a state wide LEP standardisation process which has been underway since 2006 and has simplified planning guidelines in more than 99 per cent of Local Government Areas in NSW.
18 June 2015
After over a decade of operation, a comprehensive review of State Environmental Planning Policy No – 65 Design Quality of Residential Apartment Development (SEPP 65) has been finalised. The Apartment Design Guide will replace the former Residential Flat Design Code when the SEPP 65 amendment comes in to force on 17 July 2015.
16 June 2015
The City of Sydney Council has established a specialist investigations team using a multi-agency approach to investigate unauthorised accommodations which pose high-risk fire safety from building-code violations where illegal building works have been undertaken to facilitate overcrowding.
1 June 2015
New Australian Bureau of Statistics (ABS) figures shows housing approvals in the 12 months to April 2015 are at their highest in two decades; more than 55,500 dwellings being approved in the 12 months to April. The NSW Government is working to boost supply of new homes to keep up with demand by:
Releasing and rezoning land to build new communities in Western Sydney supported by transport and community infrastructure;
Expanding the Western Sydney Employment Area;
Working with local councils to find opportunities to renew suburbs with good access to public transport;
Boosting housing choice and affordability by allowing smaller homes like townhouses to be offered in new communities in Western Sydney.
25 May 2015
The NSW Government has approved the removal of building height limits for the site of the proposed landmark Aspire Tower development in Parramatta at 160-182 Church Street. The decision follows a request from Parramatta City Council, and will support the creation of the new tower which is expected to reach 306m in height and contain up to 90 storeys.
23 May 2015
Local residents around the Sydenham to Bankstown Rail line are encouraged to have their say on new services and infrastructure they'd like to see in their area, which will help guide the revitalisation of precincts around the 11 stations along the rail line. For more information or to participate in the survey go to www.planning.nsw.gov.au/sydenhamtobankstown
NSW Government is investigating opportunities to revitalise communities around the seven railway stations between Glenfield and Macarthur and local residents and businesses are encouraged to get involved by completing the survey and sharing their views. There will be further opportunities for the community to get involved once the detailed studies are completed and draft plans are released for public comment. To undertake the survey go to www.planning.nsw.gov.au/glenfieldtomacarthur
22 May 2015
The concept plan for a world-class arts and cultural precinct at Walsh Bay has been given planning approval, and will further activate the Sydney Harbour foreshore, alongside the Barangaroo redevelopment and Bays Precinct.
20 May 2015
A Barangaroo independent design advisory panel has been established to provide feedback and expert opinions to the Department of Planning when it assesses the applications.
15 May 2015
Planning Minister confirmed that the NSW Government will retain minimum apartment sizes, as existing:
Studios 35m2

1 bedroom apartments 50m2

2 bedroom apartments 70m2

3 bedroom apartments 90m2
A new Apartment Design Guide will make it clear that these minimum internal areas include only one bathroom, with additional bathrooms increasing the minimum apartment size by 5m2 each. A fourth bedroom and further additional bedrooms increase the minimum apartment size by 12m2 each.
The Minister said this decision is consistent with approaches in other global cities like London and New York. The NSW Government's review of SEPP 65 is almost complete and will be released shortly.
11 May 2015
The New South Wales Land & Environment Court has fined developer Bill Gertos a quarter of a million dollars for the illegal demolition of a heritage row of heritage shopfronts on Parramatta Road next to the Annandale Hotel in Sydney's inner west. Mr Gertos faced a maximum fine of $1.1 million. The redevelopment of the heritage site was approved by Leichhardt Council on the condition its facade was preserved.
Two modification applications to amend the development consent to allow removal of the facade was submitted before the illegal demolition. None of the heritage bricks or other materials were retained or catalogued, making it impossible to restore the building. As a result of the illegal demolition, Leichhardt Council has revoked the development consent.
4 May 2015
After almost a decade in operation, an independent and comprehensive review of laws (Building Professionals Act) governing certification in NSW is currently underway. This Act covers the accreditation of certifiers, who work independently or for councils, assessing and certifying housing, buildings or subdivisions, and other specialist works within developments. The public can attend a round-table public forum at one of eight locations around NSW, or have their say via an online survey or by making a formal submission by email or post. To read the Discussion Paper or register for a forum, visit bpb.nsw.gov.au/buildingprofessionals-act-review
The public consultation events are planned for:
12 May Dubbo
14 May Batemans Bay
15 May Tamworth
20 May Ballina
21 May Sydney
27 May Wagga Wagga
1 June Wollongong
2 June Newcastle; and
5 June Penrith
Submissions to the Review close 12 June.
27 April 2015
The NSW Department of Planning is looking to make the planning system simpler and easier to understand for caravan parks and manufactured homes (CP&MH). The following legislation relates to CP&MH:
Environmental Planning and Assessment Act 1979
Local Government Act 1993
State Environmental Planning Policy No 21 – Caravan Parks
State Environmental Planning Policy No 36 – Manufactured Home Estates
Local Government (Manufactured Home Estates, Caravan Parks, Camping Grounds and Moveable Dwellings) Regulation 2005
The review and its recommendations will not affect current residents in existing manufactured homes or estates, mobile homes, caravan parks and camping grounds.
26 February 2015
A Strategy is being developed to guide future development along the Glenfield to Macarthur Priority Urban Renewal Corridor (the areas around the Glenfield, Macquarie Fields, Ingleburn, Minto, Leumeah, Campbelltown and Macarthur stations) over the next 20-25 years.
The strategy will be informed by a number of important factors including community input, traffic and transport analysis, economic feasibility, environmental constraints, open space, community facilities and local infrastructure requirements needed to support future growth.
A Land Use and Infrastructure Plan for each of the station precincts will be developed to identify current development constraints such as heritage and significant vegetation, in addition to rezoning opportunities.
The technical investigations will continue until May 2015, which will be followed by seeking input from stakeholders and local communities, before the Corridor Strategy is finalised.
25 February 2015
Construction at Green Square Town Centre has officially started today, with a ground breaking ceremony for Ebsworth, the Centre's first residential building; Mirvac is the developer for the 174 apartment building (which was sold out in one weekend in November 2014), and follows detailed planning, land consolidation and consultation by UrbanGrowth NSW (the land owner).
11 February 2015
Official statistics from the Australian Bureau of Statistics (ABS) show that NSW recorded 5,157 dwelling approvals in December (an increase of 27 per cent from November – 4,065 dwellings). This makes the 2014 figures the highest annual approval figures since 1999.
1 February 2015
The Penrith Local Environmental Plan was approved by the Department of Planning & Environment (DPE) . Penrith City Council's new Local Environment Plan streamlines more than 35 older plans into one standard set of local planning laws.
20 January 2015
The public exhibition of the draft St Leonards / Crows Nest Planning Study - Precinct 2 & 3 has been extended until 6 February. The draft study covers the high density commercial and mixed use area east of St Leonards Station to the residential area west of Hume Lane, Crows Nest.
25 December 2015
Its been a great year, and TRANPLAN Sydney wishes everyone a happy holiday season. We look forward to serving your town planning and heritage needs in 2015.
14 December 2014
The Metropolitan Strategy - A Plan for Growing Sydney, has been released to reinvigorate key Sydney suburbs. Some of the Plan's key actions include:

Shifting the city's gravity from east to west by establishing Parramatta as a major CBD, alongside the Sydney CBD, for jobs and world-class shopping and entertainment.
Creating vibrant new neighbourhoods with access to local jobs and first-class local amenities by renewing the area between Greater Parramatta and the Olympic Peninsula.
Delivering the Sydney Green Grid project to link open space across the Greater Metropolitan area.
Transforming Western Sydney by delivering more jobs closer to home, including confirming Penrith, Campbelltown and Liverpool as Regional City Centres.
Existing shops in business zones will be allowed to open 24-hours-a-day in the two weeks before Christmas, without requiring specific planning approval for additional trading hours. Shops must still comply with their other existing conditions of consent including delivery times and vehicle access. The Christmas extended trading hours officially commenced on Thursday 11 December.
8 December 2014
The first construction contract for WestConnex (widening of Sydney's M4 between Parramatta and Homebush from three lanes to four lanes each way) has been awarded to the Rizzani De Eccher Leighton joint venture.
1 December 2014
The Environmental impact Statement (EIS) and other documents / plans for the next stage of development of Central Park, the former Carlton United Brewery site in Chippendale is on public exhibition until Friday 19 December. The proposal includes:
construction of a 16-19 storey mixed use building with a total gross floor area of 25,755sqm containing 283 hotel rooms, 48 residential apartments, 6,146sqm of commercial office space, retail uses at the lower ground and ground level, and a child care centre;
four levels of basement comprising car parking, bicycle parking, end-of-journey facilities, hotel facilities, and service infrastructure to service Block 1 and Block 4N;
associated signage and stratum subdivision; and
retention and restoration of the Australian Hotel and Abercrombie Street terraces.
25 November 2014
The Draft Parramatta Road Urban Renewal Strategy has been released and public comments are invited until 12 February 2015. The corridor will affect 10 local councils (Auburn, Ashfield, Burwood, City of Canada Bay, City of Sydney, Holroyd City, Leichhardt, Marrickville, Parramatta City and Strathfield).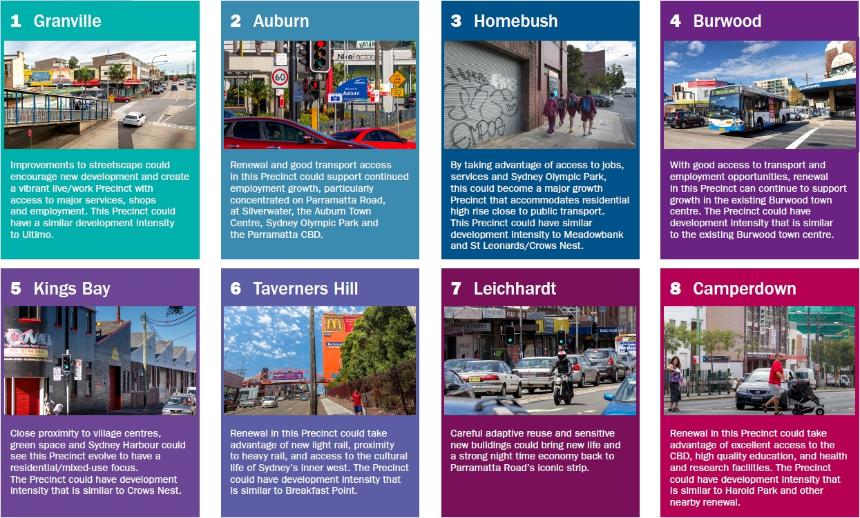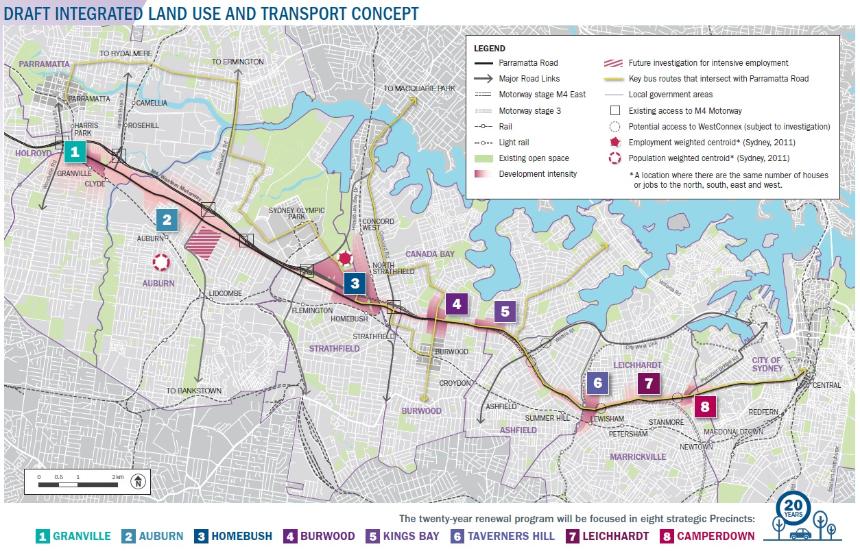 19 November 2014
One of Australia's most important heritage conservation areas, Millers Point, will be given further protection under proposed changes to the City of Sydney's Local Environment Plan (LEP) which will provide further protection to the Millers Point Heritage Conservation Area. Millers Point was developed between the 1810s and 1930s, and its character has been well-preserved with buildings having a high level of original building fabric, form and architectural detailing. The State Heritage Register gives the area national and state heritage-significance.
14 November 2014
The Environmental Planning and Assessment Amendment Bill 2014 has been passed and gives the Land and Environment Court stronger powers to punish developers that breach approval conditions or damage the environment. The Bill increases maximum fines from $1 million to $5 million and gives the Court powers to require remedial actions on top of fines when developers are found guilty of breaching development consent conditions, including:
• Requiring offenders to pay additional money, on top of penalties imposed, to cancel out any monetary benefit they received from committing an offence;
• Ordering the offender be named and shamed at their own expense, such as by taking out newspaper advertisements at their own cost;
• Forcing offenders who damage the environment to fix the damage at their own expense;
• Introducing a tiered system for fines under the Environmental Protection and Assessment Act 1979;
• Preventing businesses writing off the fines and inappropriately profiting from breaching approval conditions;
• Giving councils the power to shut down utilities in illegal boarding houses.
11 November 2014
The draft Precinct Plan for the Leppington Precinct in the South West Growth Centre is on exhibition until 19/12/2014. The Plan proposes changes to planning controls, land uses and the provision of new infrastructure for the Leppington Precinct, as well as a change to the alignment of Rickard Road north of Ingleburn Road, and:
1. for a minimum of 7,000 dwellings for at least 23,500 residents;
2. up to 16,700 square metres of retail floor space within the local centre;
3. low density housing across the majority of the precinct, with medium density housing
4. concentrated around a local centre and close to Leppington major centre;
5. staged release of land based upon availability of infrastructure and demand for housing;
6. one high school and four primary schools;
7. conservation of environmentally sensitive land along creek lines;
8. 56 hectares of open space including sports fields and other parks

The Precinct will also benefit from upgrades to Camden Valley Way, Bringelly Road and Rickard Road.
10 November 2014
The Department of Planning and Environment has announced approval of the West Byron Bay rezoning plan to ease housing affordability issues in the region and generate up to 800 new jobs during construction. The consent authority for all DAs for the rezoned land is Byron Shire Council and the Department is now working with Council to finalise the West Byron Development Control Plan (DCP).
4 November 2014
The planning application has been lodged for the new M5 tunnels as part of WestConnex Stage 2. A 16 hectare industrial site at St Peters has been acquired as a key interchange for the motorway. The New M5 will run via new 5.3 metre high tunnels from the existing M5 East corridor at Beverly Hills to an interchange at St Peters, which will provide improved access and an extra route to Sydney airport, Port Botany and Western/South Western Sydney, and will more than double capacity of the M5 East, with three lanes in each direction.
29 October 2014
27 October 2014
The 4 developers short-listed for developing Central Barangaroo; Cbus Property, Grocon, Lend Lease and Mirvac, have been issued bid documents by the Barangaroo Delivery Authority (BDA).
24 October 2014
Changes are proposed to the Environmental Planning and Assessment Act 1979 to allow the NSW Land and Environment Court to order utility providers to cut off gas, water and electricity to hostels that are illegal or which breaches consent conditions.
13 October 2014
New penalties for breaches of planning laws will now be the toughest in Australia, with a maximum $5 million penalty for companies and $1 million for individuals.
25 September 2014
The Department of Planning & Environment's new online planning tools (E-Planning) have been successful in the first month of operation.
23 September 2014
19 September 2014
6 September 2014
Waverley Council's Local Environment Plan (LEP) for the Macpherson and St Thomas Streets neighbourhood centre has been approved by NSW Department of Planning and Environment (DP&E).
2 September 2014
A 146-hectare parcel of government land in

Parramatta North

has been declared a State Significant Site, and has the capacity to provide about 6,000 new homes & 2000 permanent jobs.

The new online planning tools, ePlanning, have had more than 20,000 visitors in the first 30 days. The top ten Local Government Areas (LGA) searched for on "Planning Viewer" are: Ashfield, Canterbury, Camden,

City of Sydney,

Port Macquarie-Hastings,

Parramatta,

Ryde,

Great Lakes,

Hornsby,

Marrickville.
29 August 2014
The NSW Land and Environment Court has fined Boggabri Coal more than $100,000 for breach of mining approval conditions.
26 August 2014
The Review of Environmental Factors (REF) for Sydney's historic Museum Station, one of Australia's first underground stations, is now on public exhibition.
22 August 2014
The Barangaroo Delivery Authority (BDA) has announced 5 developers shortlisted for development of Central Barangaroo.
21 August 2014
The Western Sydney Employment Area (WSEA) will be expanded to be next to the second Sydney airport, Badgery's Creek airport.
13 August 2014
The application for the WestConnex's M4 Widening has been submitted. View the Environmental Impact Statement at the Department of Planning & Environment.
12 August 2014
The Department of Planning & Environment has introduced new planning controls to support the delivery of homes across Sydney's Growth Centres.
(C) 2021 TRANPLAN - Sydney Town Planners
Tranplan Consulting | Town Planners | Heritage Consulting